Diagnosing Diabetes – Free Sample
Catalog #STO-117F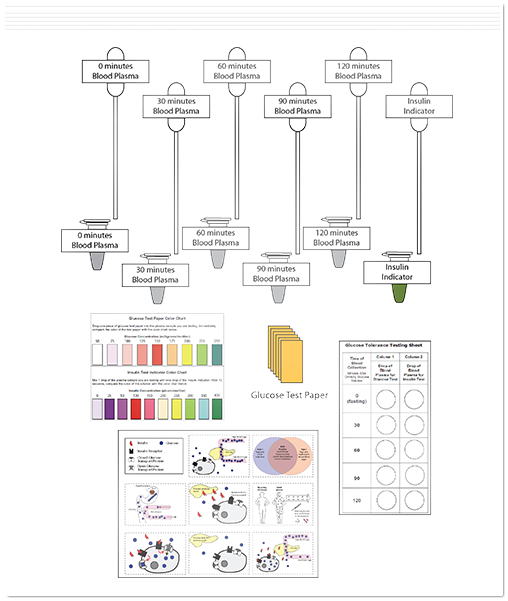 Does your patient have Type 1 or Type 2 diabetes?
Time to complete: Two 40-minute class periods, plus homework
Analyze simulated blood plasma samples collected during a glucose tolerance test to determine if your patient has Type 1 or Type 2 diabetes.
Create a patient information sheet about diabetes and the glucose tolerance test.
Test and graph glucose and insulin levels in simulated blood plasma samples.
Analyze the test results to determine if the patient has Type 1 or Type 2 diabetes.
Know Before You Buy! Download Teacher Guide
Limit 1 free sample per customer
Each assembled kit contains:
Student instructions
5 simulated "Blood Plasma" samples
Simulated "Insulin Indicator"
6 labeled droppers
Simulated "Glucose Test Paper"
Glucose and Insulin Test Color Charts
Glucose Tolerance Testing Sheet
What You Should Know About Diabetes and the Glucose Tolerance Test
Also required: Safety goggles, scissors, tape or glue, paper towels for clean-up
Teacher Testimonial
I love your kits and will love sharing them with other teachers.
- High school biology teacher (KY)