Hands-on Science Made Simple
Interactive, engaging science doesn't have to be complicated.
Ready-to-Go
Each Science Take-Out kit is fully assembled with all the materials and instructions needed. No lab prep and no lab equipment required!
Active Inquiry
Science Take-Out kits involve students in active learning. Students use science and engineering practices such as developing and using models, planning and carrying out investigations, analyzing and interpreting data, and constructing explanations and designing solutions.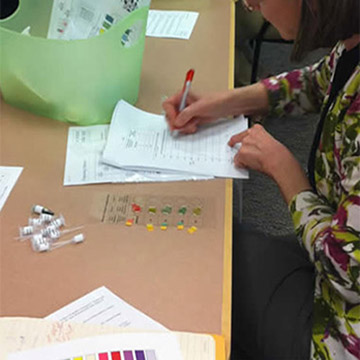 Student and Teacher Friendly
Our easy-to-follow instructions and engaging hands-on activities use manipulative models and safe simulations of authentic laboratory methods. Teacher guides contain answer keys, background information, and suggestions for extension activities.
Cost-Effective
Science Take-Out kits are sold individually, so you can buy just what you need. You can purchase a single kit or mix and match any combination of our kits. Better yet, kits are reusable thanks to our refill packs. Economical, unassembled kit packs are also available if desired.
Developed by Experienced Educators
Science Take-Out kits are designed by experienced science educators who understand the diverse needs of teachers and their students. The Science Take-Out team has extensive expertise in curriculum development, classroom instruction, and assessment. All Science Take-Out kits are thoroughly field tested to ensure that they are student friendly, teacher friendly, and meet significant learning objectives.
Engaging Science for Diverse Learning Environments
In-school science classes
Home school and online science classes
Tutoring programs and science enrichment programs
Teacher professional development programs
Informal and community science programs – museums, science clubs, and camps
Know Before You Buy
You can download a detailed teacher guide for each of our kits, including kit contents and student instructions. Simply look for the Download Teacher Guide link on each kit page. This information will allow you to be certain that the kit is appropriate for your curriculum and your students.
Have Questions? Check our FAQs or Contact Us for more information.