Skin Cancer and Sun Safety (Community Environmental Health kit)
Catalog #STO-CEH8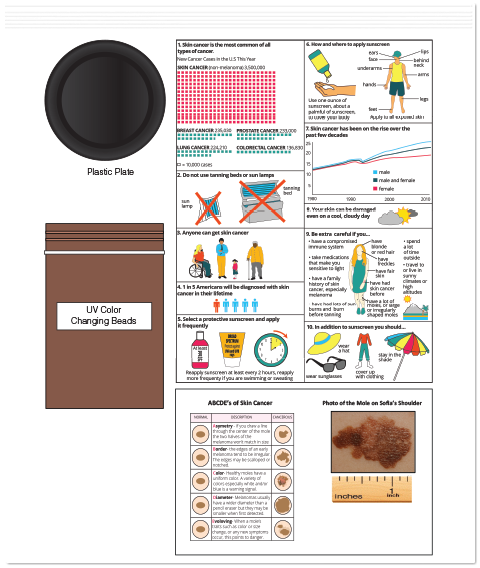 Explore how UV radiation exposure increases skin cancer risk.
Time to complete: Approximately 20-30 minutes + discussion time
Key Learning Objective:  UV (ultraviolet) radiation is the main environmental risk factor for skin cancer.
Use the "ABCDE" characteristics of skin cancer to determine whether a young woman should have a doctor check an unusual mole.
Use photosensitive beads and sun safety pictures to explore ways to prevent UV radiation exposure.
NOTE: Science Take-Out Community Environmental Health (CEH) kits are simplified versions of our "regular" kits (shortened/modified activities and lower literacy). CEH kits use hands-on activities to engage diverse community audiences in learning about environmental health issues. The kits also encourage discussions about ways to reduce exposures to environmental health hazards.
Know Before You Buy! Download Teacher Guide
Limit 1 free sample per customer
| Quantity | Price |
| --- | --- |
| 1 - 9 | $5.50 ea. |
| 10 - 24 | $5.23 ea. |
| 25 - 1000 | $4.95 ea. |
Each assembled kit contains:
Skin Cancer and Sun Safety participant guide
Photo of Sofia's Mole
ABCDE's of Skin Cancer
Sun Safety Pictures
UV color changing beads
Plastic plate
Also required: Pencil or pen
Buy Unassembled and Save!
Skin Cancer and Sun Safety – Pack of 10 Unassembled Kits
Catalog # STO-CEH8U
Unassembled packs contain materials for 10 kits.
All supplies, lab materials, and printed labels
Student instructions copy master
Easy to follow instructions for kit assembly
| Quantity | Price |
| --- | --- |
| 1 - 9 | $33.00 ea. |
| 10 - 1000 | $31.35 ea. |
This kit does not require refills since all its contents are reusable.
Teacher Testimonial
Great activity which will fit in with starting class with inquiry activity to develop concepts.
- High school biology teacher (CT)