Breast Cancer Risk Factors (Community Environmental Health kit)
Catalog #STO-CEH7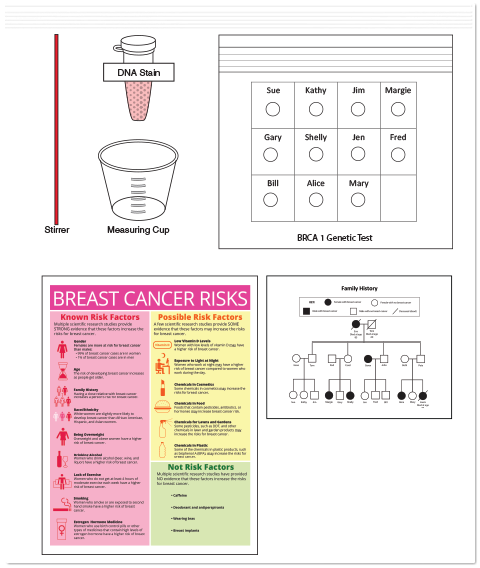 Analyze risk factors for breast cancer in a family.
Time to complete: Approximately 30-40 minutes + discussion time
Key Learning Objective:  An individual's risk of developing breast cancer is influenced by specific genes, lifestyle choices, hormonal factors, and environmental exposures over their lifetime.
Conduct simulated genetic tests to identify individuals with a BRCA1 mutation that is an inherited risk factor for breast cancer.
Use a Breast Cancer Risks infographic to identify other risk factors for breast cancer.
NOTE: Science Take-Out Community Environmental Health (CEH) kits are simplified versions of our "regular" kits (shortened/modified activities and lower literacy). CEH kits use hands-on activities to engage diverse community audiences in learning about environmental health issues. The kits also encourage discussions about ways to reduce exposures to environmental health hazards. Each CEH kit contains materials to be shared by two participants.
Know Before You Buy! Download Teacher Guide
Limit 1 free sample per customer
| Quantity | Price |
| --- | --- |
| 1 - 9 | $6.50 ea. |
| 10 - 24 | $6.18 ea. |
| 25 - 1000 | $5.85 ea. |
Each assembled kit contains:
(2) Breast Cancer Risk Factors participant guides
(2) Breast Cancer Risks infographics
Family History chart
BRCA1 Genetic Test sheet (simulated)
DNA Stain (simulated)
Graduated measuring cup
Plastic stirrer
Also required: Pencil or pen, paper towels for clean up
Buy Unassembled and Save!
Refill Your Kit
Breast Cancer Risk Factors – Pack of 10 Unassembled Kits
Catalog # STO-CEH7U
Unassembled packs contain materials for 10 kits.
All supplies, lab materials, and printed labels
Student instructions copy master
Easy to follow instructions for kit assembly
| Quantity | Price |
| --- | --- |
| 1 - 9 | $42.00 ea. |
| 10 - 1000 | $39.90 ea. |
Breast Cancer Risk Factors – 10 Kit Refill Pack
Catalog # STO-CEH7R
Refill packs contain materials to replace consumable supplies for 10 kits.
| Quantity | Price |
| --- | --- |
| 1 - 9 | $14.50 ea. |
| 10 - 1000 | $13.78 ea. |
Teacher Testimonial
Simple, clear, effective, readily expandable
- High school biology teacher (SC)